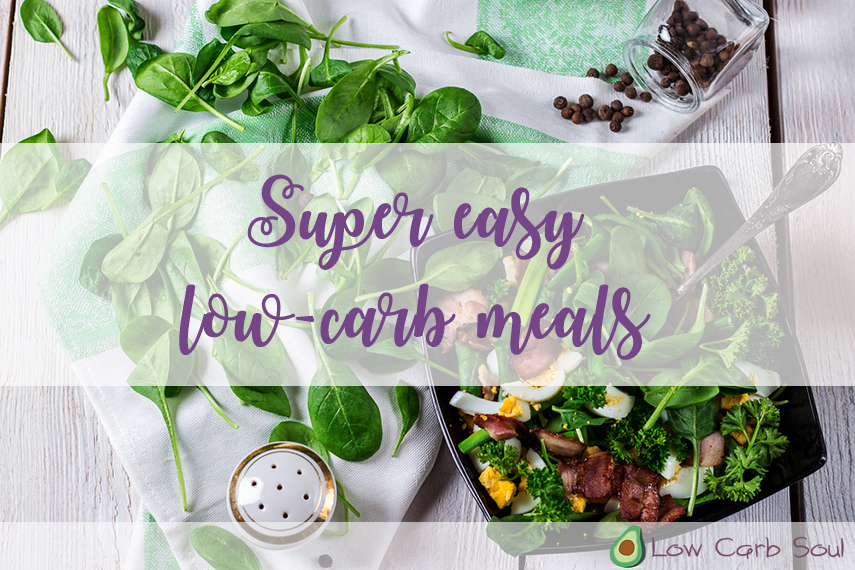 Super easy low-carb meals
If you search the internet for low-carb recipes, you'll find no shortage of super creative ideas that demonstrate how truly delicious and satisfying low-carb living can be. There are some truly genius people out there who are able to do amazing things with food.
I am not one of them. Nor do I usually have the time or inclination to experiment with a new recipe. That sort of thing is usually reserved for weekends when I have more time and am feeling a bit more adventurous.
So during the week, I typically keep things super simple. Because like all of you, I have work to do, and laundry, and kids to pick up from school, and creative projects to tend to, and books to read, and all the other things, and I need meals to be easy.
Also important: If you're just starting out on keto, I recommend keeping things as simple as possible. You don't have to try to "ketofy" all your favorite foods and make fathead pizza and buy a lot of ingredients for making complicated recipes. Save all of that for later, when you've gotten more comfortable eating 75% fat and you're ready to experiment a little more.
Here are some of my go-to, super easy and satisfying low-carb meals that have allowed me to get into ketosis and stay there.
Low-carb breakfast ideas
Avocado-spinach ketogenic green smoothie. This is my go-to breakfast so that I can get my day started off with lots of nourishing plant compounds. Get the recipe here.
Eggs and bacon. This is a classic keto staple. I'd still recommend a smaller smoothie on the side to get your greens, or throw some spinach into your eggs. Also, make extra bacon and store it in the fridge. You'll thank me later. If you don't like eggs or can't eat them, there are lots of other keto meals you can eat for breakfast.
Greek yogurt. A bowl of plain (no sugar added), full-fat yogurt with a packet of stevia is absolutely delicious. If you're already fat adapted, you can throw in a few berries. I don't do this very often because I limit dairy, but it's a nice change every once in a while. Some brands of coconut yogurt are also delicious. I prefer CoYo, which I get at Natural Grocers.
Low-carb lunches
Leftovers. I love leftovers. Sometimes they even taste better the next day. (It's science.) When you cook dinner, always make a little bit extra. It doesn't take any extra time, and you have lunch ready to go for the next day. Pack it up in a glass storage container if it's something that needs to be reheated (don't ever microwave plastic containers). Even salad usually keeps fine until the next day if it isn't drenched in dressing. It doesn't get any easier than this.
Super quick salad. Get a bagged salad kit. Romaine or mixed greens are best (stay away from iceberg lettuce, it has the lowest nutritional value). Make sure to check the ingredients on the dressing and pick one that doesn't contain any crap like high-fructose corn syrup (or use a different organic dressing or even just olive oil). Leave out any croutons or things like tortilla strips. Cut up that extra bacon you saved from breakfast and toss it in with some avocado. Delicious. (This usually makes 2 meals for me.)
Salmon cucumber bites. Slice up a cucumber and top off each slice with smoked salmon and avocado.
A mix of whatever you have on hand. Sometimes my lunches are just a mix of celery with tuna salad, a hard-boiled egg, some grape tomatoes, and some olives. These are things I tend to always have on hand. (p.s. olives are one of the healthiest foods you can eat.)
Low-carb dinners
Chicken and veggies. If I'm really pressed for time, I'll grab a rotisserie chicken, steam some broccoli or cauliflower, and make a bagged salad. This is about as easy as it gets. Poultry is lower in fat, so eat the skin, or add some avocado and some more leftover bacon to the salad.
Hamburger patties. Get some pre-made grass-fed hamburger patties (I like to buy them when they're on sale and keep them in the freezer) and cook them up with some asparagus. Add a bagged salad. (Can you tell we are big fans of bagged salad in our house?) I like to top mine off with avocado slices. No buns, obviously.
Taco salads. Brown up some ground beef (we get grass-fed whenever possible, but it is more expensive, so do whatever your budget allows). Fill up some bowls with lots of romaine (you can get pre-cut to make it even easier). Add all the fixings: cheese, sour cream, salsa (check the label for carb count), black olives, and avocado.
Low-carb snacks
Once you're fat adapted, you likely won't get too hungry between meals. But if you find yourself in need of a little something, here are some low-carb, high-fat snacks you can grab.
Hard-boiled eggs. Cook up a batch on Sunday and they'll last you all week. Side note: eggs are a common cause of gastrointestinal distress. If this is the case for you, don't feel like you have to include eggs in your diet just because they're a classic keto food.
Macadamia nuts. Macadamias have more fat than any other nut, and salted macadamia nuts are the best thing I've found for replacing my potato chip addiction.
Flax crackers. These flaxseed crackers are super tasty, filling, and a good source of omega-3s.
Rawxies Crunch. This stuff is delicious and one serving has 1 net carb. Made with a whole bunch of good seeds and spices.
Dill pickles and olives. (Watch for things like high-fructose corn syrup in the pickles.)
Coconut chips. These are delicious and high in fat. Make sure to get the lightly salted version as the original recipe has added sugar.
Cheese sticks. Cheese is a keto staple for many people. I ate a lot of cheese to get through adaptation, but I've since cut back on dairy because it can cause other problems and contributes to inflammation. If you're doing keto for weight loss, dairy may stall you, so listen to your body and do what's best for you.
Once you're passed the induction phase, you can have about 50 grams of carbs per day, and these meals will easily keep you there. Eating this way, my carbs typically amount to right around 25 grams or less, which was my goal during adaptation.
What do you think? How different is this from your current diet? Could you eat this way and stick with it? Let me know your thoughts!
Tags In
Karen
Karen Eisenbraun is a certified holistic nutrition consultant and a professional health writer. She has written extensively on the subjects of nutrition, yoga, and natural living for many leading websites, including Livestrong.com and Natural News. Her holistic health and wellness blog was listed as #6 on the Top 100 Online Holistic Nutrition Resources.