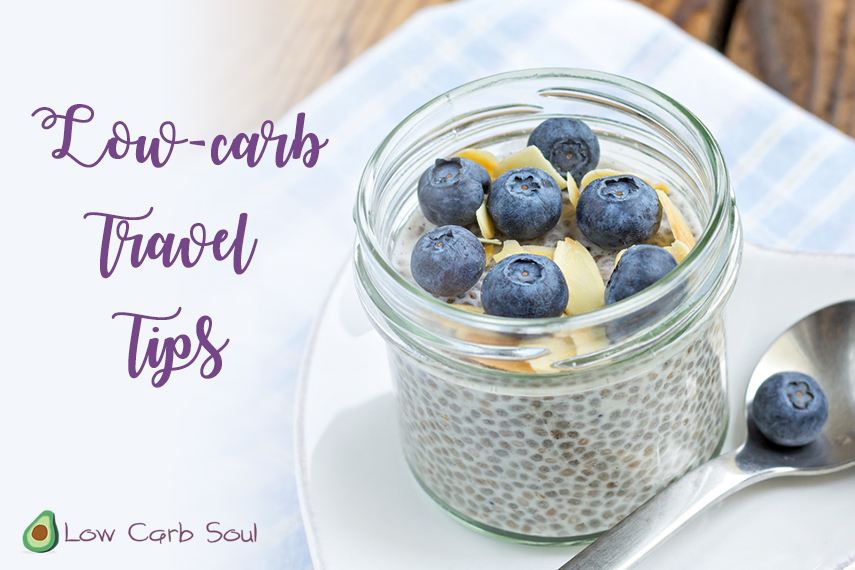 Low-carb travel tips
Do you travel often? It can be difficult to find healthy meals when you're on the go, particularly if you're traveling for work and find yourself in the middle of rural Kansas where your only options are fast food and gas stations.
Admittedly, I have failed miserably at trying to eat keto while traveling (see exhibit A). But that was in large part because I was in vacation mode and disinclined to pass up the sangria and fresh plantain chips whilst dining in Costa Rica. If you're traveling for work, and it's a regular part of your routine, it's important to stick to a regular healthy diet as much as possible.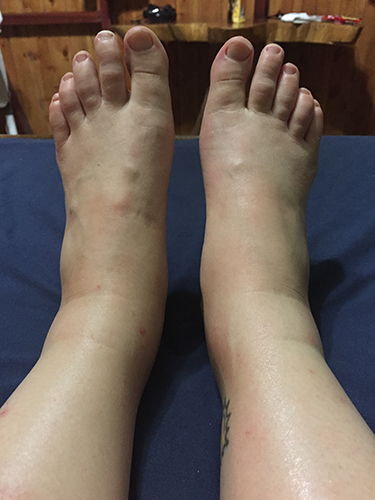 Exhibit A: Costa Rica cankles caused by careless carb consumption
Like healthy eating in general, healthy eating while traveling takes a little more forethought and preparation, but it's totally possible to stay on track with a low-carb or ketogenic diet even when you're in a hotel room with nothing but a mini fridge (oh, but make sure you get a mini fridge).
These low-carb travel tips will work best if you're traveling by car. If you're flying, you may have to modify a bit, or even hit up a grocery store once you reach your destination.
Something to note: These meals aren't going to be very exciting. This is as simple as it gets. So if you like a lot of variation in your meals, this may not work for you. But I usually find that I can eat very simply during the week and then have a little more fun with meals on the weekends.
Things to buy / pack before your trip
(Many of these are optional. If you aren't prone to snacking, then you can omit the snack foods.)
Eggs
Salmon packets
Avocados
Blueberries
Grape tomatoes
Bag of spinach
Whole nuts (macadamia nuts, pecans, walnuts, almonds)
Almonds (slivered and roasted)
Beef jerky (preferably grass-fed)
Olives
Small bottle of olive oil
String cheese (if tolerated)
Greek yogurt (if tolerated) or coconut yogurt
Small container of unsweetened coconut milk
Vanilla extract and / or flavored liquid stevia
Dark chocolate (stevia sweetened or low in sugar)
Stevia packets
Himalayan salt
The night before your trip, boil up some eggs. (I understand you can do this in like 5 minutes if you have an Instant Pot.)
Pack up all the non-perishables. If you travel often, you may want to just keep your staples in a designated bag for this purpose. You may also want to bring your own bowl and silverware, including a sharp knife for the avocados. Also pack some small Tupperware containers or Ziploc bags, and a small mason jar with a lid.
Pack up all the perishables in a cooler and put them in the mini fridge when you arrive at your destination.
Breakfast options
Breakfast is often tricky because so many breakfast staples are nothing but processed carbs, and hotel continental breakfasts are often just waffles, cereal, and pastries. And watch out for hotel scrambled eggs, which are often made with powdered eggs. Not only does that sound completely unappetizing, but evidently they can be loaded with carbs from added ingredients like potato starch. But you can make a lot of breakfast variations with the foods listed above. Try to make sure that you follow the key rule of getting protein, fat, and plant compounds in every meal.
2 hard-boiled eggs with a handful of blueberries or some grape tomatoes.
2 hard-boiled eggs mashed up with half an avocado.
Chia pudding. See recipe below.
Yogurt with blueberries. Plain Greek yogurt is usually the best, because anything flavored tends to have lots of sugar. Sweeten it with a packet of stevia and add blueberries and slivered almonds. Do not buy low-fat or nonfat yogurt. It's full of nasty added chemicals. I find full-fat yogurt is hard to find in single-serve containers. I buy Fage in 35-ounce tubs, which is at least 4 servings, which is why you need a bowl. If you can't tolerate dairy, Coyo coconut yogurt is the best non-dairy yogurt I have found. You may be able to find it if there is a health food store where you're staying.
Chia pudding recipe
This is best made the night before, but can be made in the morning and left to soak while you shower and get dressed. Chia pudding can keep for 2-3 days, so you could also prepare this before your trip if you'd rather not bring along all the ingredients.
The consistency of chia pudding is a bit slimy and may take a little getting used to, but it makes a super healthy low-carb breakfast packed with healthy fats. Chia seeds also contain a small amount of protein, along with lots of important vitamins and minerals like manganese, magnesium, iron and niacin, and lots of antioxidants.
Combine 1/4 cup of chia seeds with 1 cup of coconut milk (you can also use almond milk or another liquid if you prefer — play around with it!). Put it in the mason jar and let soak, ideally overnight. Add a few drops of vanilla extract and / or flavored stevia. You could also add a bit of cinnamon. Eat with some of the blueberries and slivered almonds.
Lunch options
Chances are you'll be out and about for lunch, so stash some of your low-carb foods in your bag. If you have time, prepare a salad before you leave your room.
You have everything you need for a healthy salad. Throw some of your spinach in a Tupperware container, along with some salmon, tomatoes, avocado, slivered almonds, chia seeds and even one of the hard-boiled eggs. (Ziploc bags or smaller containers will come in handy for stashing any extra salmon or avocado in the mini fridge.) Drizzle on some olive oil, and everything will be nice and well-coated by the time you're ready to eat.
One of my favorite easy lunches is a 3-ingredient salad: cut up an avocado along with some of the tomatoes, and throw in a handful of the slivered almonds. No dressing needed, but you can add some salt.
If you're short on time, a packet of salmon along with some grape tomatoes is a perfectly acceptable lunch that includes all of your requirements: protein, fat, and plant compounds.
If you're still hungry, nuts, olives, beef jerky, and string cheese are all great, portable, low-carb, high-fat snacks that will help keep you feeling full and better able to resist any sugary gas-station snacks. Olives are legit one the best foods you can eat: they're a great source of monounsaturated fat and also contain beneficial polyphenols that you can't get anywhere else. (Oh hey, I wrote an entire article about olives here.)
Dinner options
Obviously all of the above are options for dinner as well, but sometimes you just want a hot meal. If your room has a microwave, a can of low-carb soup is a quick and easy option. Obviously avoid anything that contains rice or noodles.
If there is a restaurant in the hotel or nearby, order a protein that you can combine with the foods in your fridge. Get a bunless burger or chicken breast to go, and top it off with some of your avocado. Skip any carby sides like fries, rice, or mashed potatoes, and make a side salad with your spinach and other fixins.
Finally, have some of the dark chocolate for dessert so you aren't tempted to hit up the hotel vending machine!
What do you think? Do you frequently stay in hotels? Does this look like something you could incorporate into your routine?
Note: This post contains affiliate links, but I only link to products that I use myself and wholeheartedly recommend.
Karen
Karen Eisenbraun is a certified holistic nutrition consultant and a professional health writer. She has written extensively on the subjects of nutrition, yoga, and natural living for many leading websites, including Livestrong.com and Natural News. Her holistic health and wellness blog was listed as #6 on the Top 100 Online Holistic Nutrition Resources.