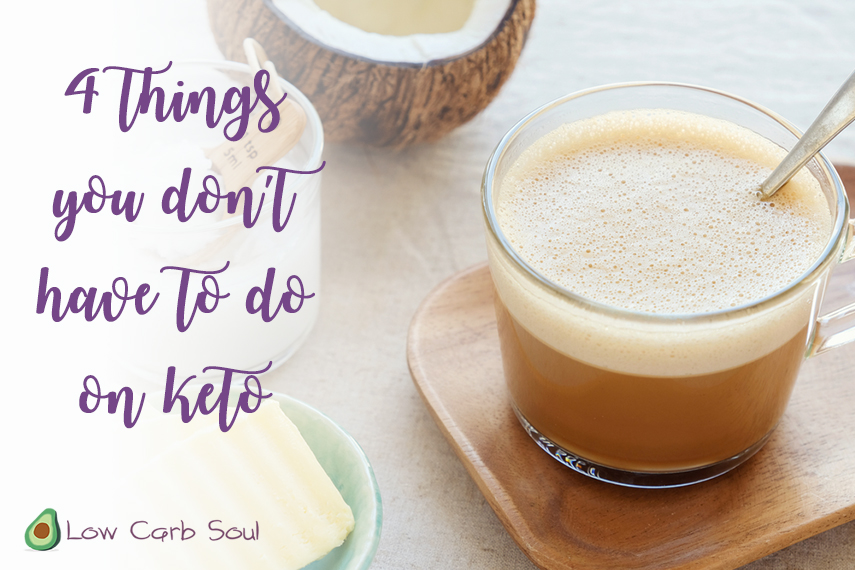 4 things you don't have to do on keto
Getting started on keto can be confusing. There's a lot to learn, and it's likely very different from how you currently eat (and how we've been told to eat for decades). That's why I always tell people to keep it simple at first. Choose a few simple low-carb, high-fat meals that work for you and rotate through them while you get adapted. You don't have to do fancy keto copycat recipes, unless that's your thing. (It's not mine, and it's not necessary for success with keto.)
You also don't have to do all the things that it may seem like everyone else is doing. There are lots of different ways you can approach keto. You can do lazy keto. You can do whole foods keto (my approach). You can do dairy-free keto. You can even do vegan keto if that's your preference. Everyone's keto experience looks a little different. So don't feel pressured to do anything that seems overwhelming or confusing right now.
The following are four common keto practices that you do NOT have to do in order to be successful. So unless these appeal to you, don't worry that they are required for success or that you're sabotaging your keto results by omitting them or saving them for later.
Have questions about adapting to keto? Contact me or leave a comment below!
Tags In
Karen
Karen Eisenbraun is a certified holistic nutrition consultant and a professional health writer. She has written extensively on the subjects of nutrition, yoga, and natural living for many leading websites, including Livestrong.com and Natural News. Her holistic health and wellness blog was listed as #6 on the Top 100 Online Holistic Nutrition Resources.